Current place

HOME > English Top > Investor Relations > CSR > Environment
Environment :
Reducing Environmental Burden
Seven Bank recognizes the importance of protecting the Earth's environment. We work to conserve energy and resources in our business activities, and also help to reduce society's environmental burden by improving the environmental friendliness of our ATMs. In addition, our employees energetically participate in a variety of activities to protect the environment.
Basic Stance
Seven Bank makes maximum use of IT technology, which advances daily, in proactively executing environmental measures with emphasis on ATM services. In addition, we aim to be a company that contributes to the environment by enabling all employees to engage in environmentally conscious conduct.
Examples of ATM Service Initiatives
Use of Second Displays
Since our second-generation ATMs, a second display installed on the ATM has shown a list of partner financial institutions, announcements of various kinds of campaign information and other data. This display has replaced the printed cards used in the past, thus eliminating the use of energy to distribute these cards.
Restraining Paper Use
The ATM transaction screen allows customers to select whether or not they want a receipt, enabling cooperation with customers in saving paper resources. In addition, our ATMs formerly recorded transactions on a roll of paper receipts but now record them on an internal hard disk, which significantly restrains paper use.
Restraining Electricity Use
Our third-generation ATMs always switch to energy-saving mode when not executing transactions, and the transaction screen and second display are now backlit by LEDs. Our ATMs thus contribute to conserving energy by using approximately 48% less electricity.
Employee Participation in Bonolon Forest Environmental Protection Activities
Bonolon Forest Environmental Activities
Since fiscal 2008, Seven Bank has been conducting Bonolon* Forest environmental activities for employees and their families. These activities encompass three programs to feel the fascination of nature, learn about nature and protect nature with the objective of helping people love and value nature.
*Bonolon is the main character of a series of children's illustrated books that have been made into an animated television show.
Eco-Product Exhibition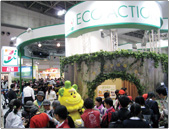 Seven Bank's booth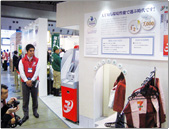 In December 2011, 7&i Holdings had an exhibit at Eco-Products 2011, one of Japan's largest environmental exhibitions. Seven Bank exhibited its third-generation ATM featuring outstanding environmental performance, with part of the booth fashioned as the Bonolon Shrine. Our exhibit also included a Bonolon Forest Environmental Activities panel and images of actual trash in the forest at the foot of Mount Fuji. Moreover, Seven Bank published a special edition an illustrated book titled "Forest Warrior Bonolon" that highlighted the Bank's initiatives to protect the environment, and distributed it to children and other people who visited the booth.
---