Current place

HOME > English Top > Investor Relations > CSR > Human Rights
Human Rights :
Embracing Diversity
Seven Bank embraces diversity by creating a workplace environment in which employees with diverse values and individuality can exercise their capabilities.
Re-Challenge Plan

We have established a plan that helps employees continue working after having children, while caring for children, or while caring for family members. This plan also helps people return to work after a temporary leave of absence.

Promotion to Permanent Employee Status

We offer opportunities for temporary staff and part-time employees to become permanent employees according to their motivation and capabilities.

Temporary Employee System

Seven Bank has a system that allows employees who pass the retirement age of 60 to continue working part-time if they wish.

Employment for People with Disabilities

Since fiscal 2007, we have been helping people with disabilities lead normal lives by providing them with work that uses their capabilities and aptitude.
Cooperation with Terre Verte, a Special Subsidiary of the 7&i Holdings Group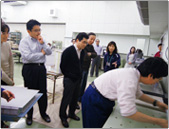 Calling on Terre Verte
Exemplifying our awareness-raising activities to promote and entrench employment of people with disabilities, we engage consultants from the special subsidiary Terre Verte* for training and other assignments. We also promote awareness by having our own employees involved in employing people with disabilities call on Terre Verte to exchange opinions on issues including accommodating people with disabilities and workplace tasks.
*Special subsidiary Terre Verte: Ito-Yokado Co., Ltd., Seven-Eleven Japan Co., Ltd., York-Benimaru Co., Ltd., Denny's Japan (Seven & i Food Systems Co., Ltd.) and the city of Kitami in Hokkaido, Japan jointly provided the capital to establish this company in 1994. Terre Verte employs 15 people with severe disabilities in the businesses of cultivating shiitake mushrooms and printing.
---