Current place

HOME > English Top > Investor Relations > CSR > Fair Operating Practices
Fair Operating Practices :
Collaboration with Partner Companies
Our ATM network operates 24 hours a day, 365 days a year with no days off. We could not provide services that satisfy our customers if we did not have our partner companies. To grow along with its partner companies, Seven Bank builds a framework for collaboration and sharing skills based on close cooperation.
Safe and Efficient Secure Logistics and Security
Cooperating with partner security companies, we provide on-site support ranging from responding to routine malfunctions to replacing banknotes and machine security so that customers can use our ATMs securely.
Partner companies preclude service interruptions due to cash stock out by analyzing ATM usage conditions by machine to determine cash replenishment timing according to usage patterns. They also minimize downtime required for activities including ATM maintenance, inspection and cash collection. In addition, our security operations center supervises ATMs continuously under a 24-hour system and responds promptly if problems suddenly occur.
Cooperation with Partner Companies to Provide High-Quality Services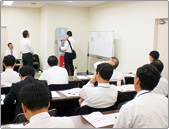 Partner company training session
Both Seven Bank and its partner companies must provide high-quality services in order to continually provide services that satisfy its customers. Seven Bank's Customer Service Division participates in meetings of the people in charge of education at partner security companies to share information on topics such as case studies covering improvement of customer satisfaction and survey results. We also hold role-playing sessions to share responses to ATM problems, and hold networking meetings of people responsible for ATM operation and maintenance to share skills in ways such as deepening knowledge and further enhancing understanding of customer satisfaction at Seven Bank.
Testimonial and Prize System for Partner Companies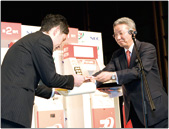 Presentation of a letter of thanks
Seven Bank has established a testimonial system for partner companies. This system expresses our appreciation for the daily efforts of partner companies and presents a letter of thanks twice annually to people who provided outstanding performance.
In addition, in fiscal 2006 we established a prize system for the partner company operators who work in our ATM call centers. Every month, we select outstanding case studies, opinions and proposals submitted by operators for commendation.
---