Current place

HOME > English Top > Investor Relations > CSR > Labor Practices
Labor Practices :
Creating a Pleasant Workplace
Seven Bank believes that people, the source of its services, are society's most important resource. We therefore work to create a workplace environment in which diverse employees can exercise their capabilities while supporting a work-life balance for employees.
Response to the Act on Advancement of Measures to Support Raising Next-Generation Children
Seven Bank helps employees achieve a work-life balance by ensuring they take specified leaves of absence for childcare, creating an environment of respect for both the work and personal lives of employees, and implementing measures that help employees and their families determine the best work-life balance.
In March 2009, Seven Bank was acknowledged as a company that provides support for both work and raising children.
Visit the Workplace Days for Children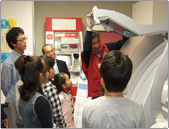 Children receiving an explanation of an ATM
Seven Bank periodically holds Visit the Workplace Days for the children of employees. Exemplifying support for work-life balance, these days deepen family understanding of work with the objective creating a pleasant working environment for employees.
The head office and branches hold Visit the Workplace Days, and many families and children participate. Visitors get an actual feel for the workplace environment through experiences such as exchanging name cards, operating ATMs, and exploring the workplace.
Employment and Evaluation Policies
We believe that our people are the source of our services and our most valuable resource. We therefore work to ensure equal employment opportunities and diversity so that all employees can work energetically. We also employ a ranking system using job responsibility, expectations and achievements to evaluate employees fairly and objectively on the basis of their capabilities and achievements.
Systems for Education and Training
Seven Bank enhances the capabilities of each employee by categorizing employee responsibilities into the two stages of cultivating professional skills and exercising professional skills, then conducting training to provide the knowledge and skills required at each stage.
Sending Employees to Business School
Aiming to cultivate the next generation of leaders, Seven Bank has been sending employees to business schools for adults run by universities every year since 2008. We select these employees using reports from hopeful candidates that cover the themes they wish to study and their career plan once they have completed business school as well as interviews.
---