Message from the President
Thank you very much for using Seven Bank's services.
Since its establishment in 2001, Seven Bank has worked to provide ATM services that anyone, anytime, anywhere, can use.Thanks to these efforts, the number of ATMs installed in Japan reached 24,888 as of the end of November 2018, and the number of ATMs installed has grown to become one of the social infrastructures that are used by approximately 2.2 million customers a day.
In May 2017, Seven Bank formulated a medium-term management plan (FY2017-FY2019) based on the basic policy of "Achieving Business Diversification while Growing Our Core Business."In order to achieve sustainable growth, the Medium-Term Management Plan is positioned as a period for laying the foundations for long-term growth and is promoting business.
In the ATM platform business, we have positioned our ATM infrastructure as our platform and are implementing measures to encourage more customers to use our ATM infrastructure.During the first half of the fiscal year under review, we worked to expand our unique ATM services, such as the smartphone ATM service, which allows customers to make payments and withdrawals only on their smartphones, and alliances with operating companies that have entered the payment field, as well as enabling customers to charge for transportation-related electronic money and Rakuten Edy.
In the Settlement Account Business, in addition to strengthen the convenience and profitability of existing services, we are developing new digital payment apps based on smartphones.We will work closely with the smartphone apps of Seven & i Group companies, increase points of contact with customers, and uncover new needs. In this way, we will develop and provide new financial products and services that are unique to the Seven & i Group that offer value in close proximity and convenient.
In overseas business, the FCTI of consolidated subsidiaries in North America completed the installation of ATMs at Seven-Eleven stores in the United States.However, due to a significant change in the business environment that was originally anticipated, the progress of the business plan was disappointing, so we reviewed the business plan going forward and recorded an extraordinary loss for goodwill and other items that occurred at the time of the acquisition of FCTI shares during the interim term under review.Looking ahead, we will utilize the approximately 8,000 ATM networks installed at Seven-Eleven stores in the U.S. to increase the number of ATMs used and to realize profitability at an early stage through further improvements in operational efficiency.
Seven Bank places a high value on contributing to the resolution of social issues and value creation through its business activities through sincerity and sincerity, and responding to the expectations and trust of society.While striving to create a better society, we also aim to enhance our corporate value.
We would appreciate the continued support and encouragement of our stakeholders.
Jan. 2019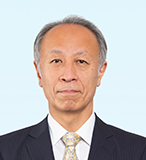 President and Representative Director
Yasuaki Funatake