Compliance Initiatives
The Bank regards compliance with applicable laws and societal norms as a fundamental prerequisite to earning the trust of society. Being aware of the importance of its public mission and the significance of its societal responsibilities, the Bank has developed the following initiatives to ensure compliance, which is one of the priority issues of management.
Compliance Systems
The Bank designates a responsible person in each internal division as a compliance officer to implement thorough compliance and serve as a point person to consult on compliance-related problems. The Risk Management Division, led by the officer in charge, works as the Bankwide compliance division to improve accountability and responsibility, self-supportive capabilities and mutual checks to create an organization with an inherent self-monitoring function. In addition, the Compliance Committee, which acts as an advisory body for the Executive Committee, reviews and evaluates all significant compliance-related issues.
Compliance Systems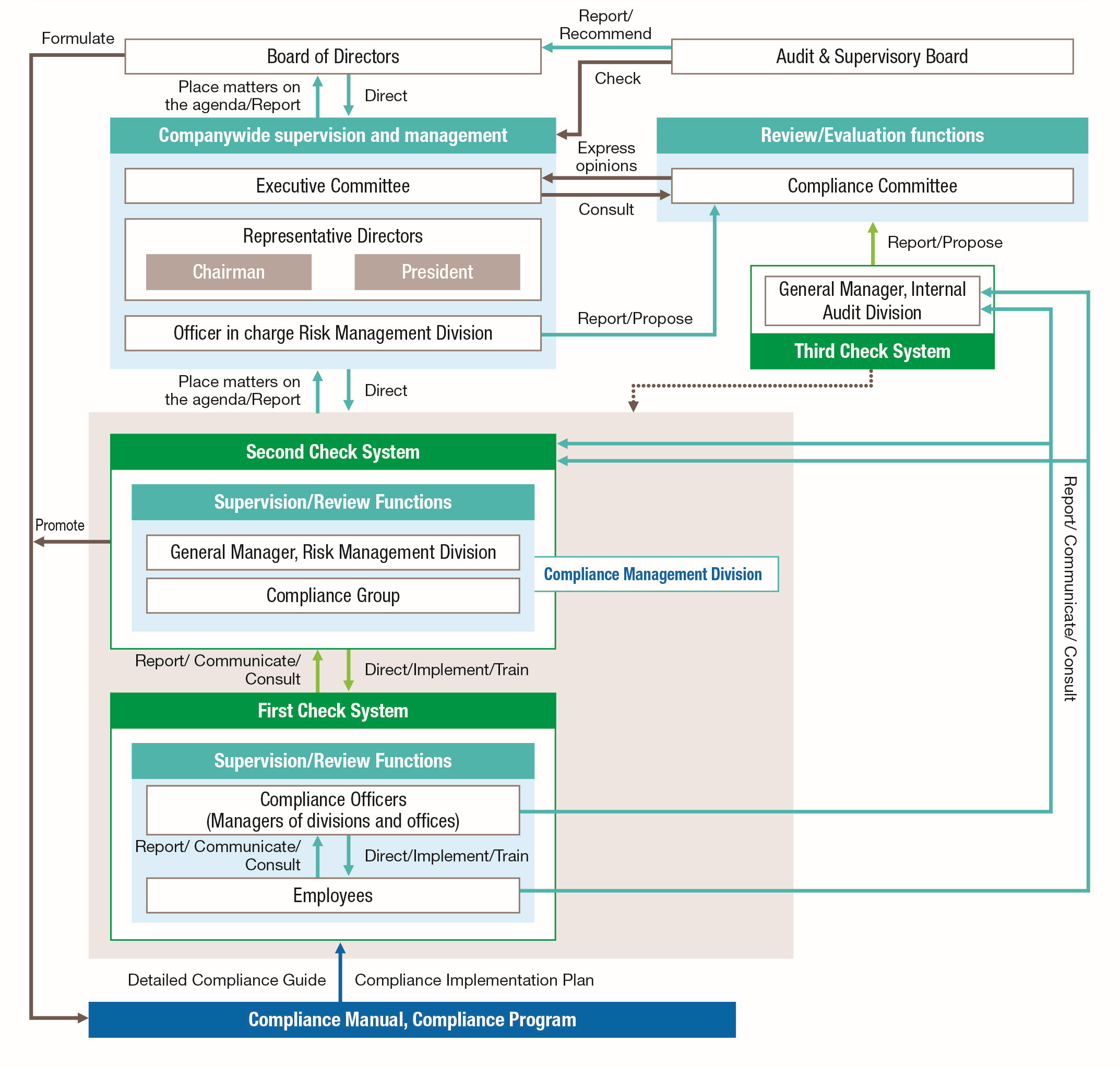 Overall Management of Risk
The Bank establishes a compliance program each fiscal year that sets out the compliance implementation plan for that year. The Board of Directors reviews and evaluates the progress and implementation status of the compliance program for the relevant year and, based on such reviews and evaluations, formulates a compliance program for the following fiscal year.
Compliance Manual
To thoroughly implement compliance, the Bank has established a compliance manual and has all employees periodically review it by reading it aloud. The content of the manual has been updated when necessary in line with revisions and abolition of laws and regulations. To disseminate the content of the compliance manual thoroughly, the Bank is implementing various kinds of compliance training sessions.
Main Compliance Issues
1. Prevention of Money Laundering and Financial Crimes
The Bank focuses on preventing the opening of fraudulent accounts by conducting strict customer verification and other due diligence procedures when customers apply to open new accounts.
Moreover, the Bank has established the Financial Crime Risk Strategy Planning and Prevention Division as a dedicated unit to combat financial crimes. By monitoring and filtering accounts on a daily basis, this division works to prevent money laundering, eliminate fraudulent accounts, prevent fraudulent bank transfers and other fraudulent activities, and cooperate with the police and other governmental authorities appropriately.
2. Response to Antisocial Groups
The Bank has ordinarily been making focused efforts to eliminate any form of relation with antisocial groups and keep such forces away by collecting and accumulating information related to antisocial groups and conducting preliminary reviews based on such information before starting new business transactions. Also, among other steps, since January 2010, the Bank has asked applicants opening accounts to sign an affidavit stating they are not associated with antisocial forces. By including the provisions that explicitly indicate the exclusion of organized crime groups in the transaction rules and other clauses, the Bank can reject the account application and close the account upon finding that the customer falls under or is associated with antisocial forces. In addition, the Bank conducts regular training for officers and employees to ensure they can take appropriate actions in an organized manner against wrongful demands and other similar events in accordance with internal rules and regulations.
Compliance Consultation System
System to identify and address compliance issues early, and prevent reoccurrences. The system provides contact points for both internal and external consultation and reporting.
As contact points for employees to seek consultations or report issues, a Compliance Consultation Desk within the Company and a Groupwide Help Line (a consultation and reporting contact point for all Seven & i Group companies) outside the Company have been established, and posters with contact information have been posted and booklets with contact information have been distributed to all employees to ensure their awareness of these contact points.
Furthermore, to promote fair transactions and provide safe and secure services for customers, a Suppliers' Help Line (a consultation and reporting contact point for all Seven & i Group companies) has been established for suppliers.
Dissemination of Compliance
With the belief that compliance with laws and regulations is a prerequisite for gaining trust from stakeholders, the Bank positions compliance as a priority managerial issue.
Compliance Standards Card

Groupwide Help Line

Compliance Consultation System

Suppliers' Help Line