Seven Bank account services

Seven Bank can be used to receive your salary !
You can receive your salary or your part-time wages. Deposits and withdrawals are free of charge between 7:00 to 19:00.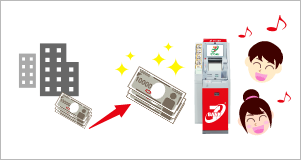 * Financial Insitution code of Seven Bank is 0034
* Be sure to check beforehand whether or not your employer can designate Seven Bank as bank for receiving of Salary

You can make domestic money transfers anytime you want !
To the same Seven Bank account:
The transfer fee is 55 Yen
To other bank account:
The transfer fee is 220 Yen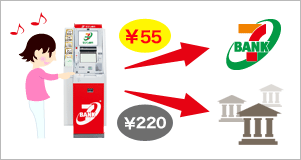 * There may be an additional charge for use of an ATM depending on the time of the day.
Place your savings on Time Deposit!
You can easily set up a transaction anytime using Direct Banking Service or at Seven Bank ATM's. To learn how to place a Time deposit using the ATM please check this tutorial video.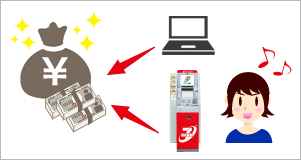 * For further details, please check here(Japanese and English).

Our multilingual ATM and help desk will support you in 9 languages !
Your ATM transactions and help desk for your queries are supported in 9 languages.
* The ATM multilingual support is for cash card transactions only (except for some transactions)
* Some transactions may only be assisted at our Contact Center.
Click here to open an account and apply for use of the service.