Notification
-Further improvement on the convenience of foreign travelers/foreign residents in Japan-
"Expansion of multi-language inquiry support system on Seven Bank ATM"
At Seven Bank, we currently operate over 24,000 ATMs, in 12 languages when using cards issued overseas, in 9 languages when using International Money Transfer Service with Seven Bank cash card on ATM screens and statement slips. We will expand our support system to respond to inquiries from foreign visitors and foreign residents in Japan who are expected to increase further in the future.
【Expansion of support on ATM screen】
As of January 2018, we have set up "International Card info." on all ATM screens, a guide to customers using cards issued overseas, and are posing guidance on ATM usage in 12 languages and answers to Frequently Asked Questions. Thanks to you, it became to be seen by many of customers.
■ATM TOP screen

In the case of English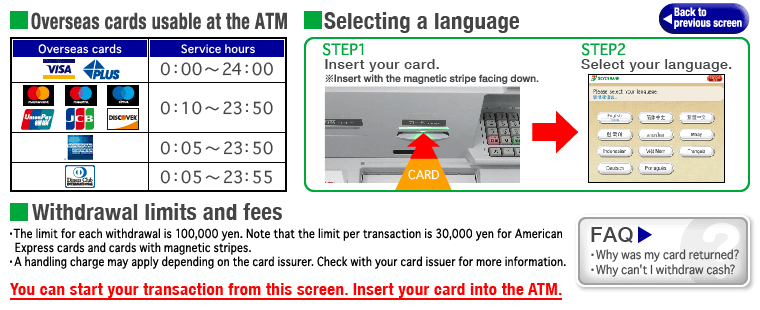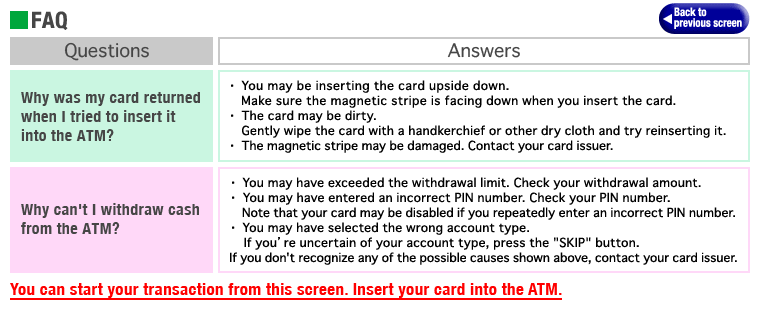 In the case of other languages (簡体中文、繁体中文, Korean, Thai, Malaysian, Indonesian, Vietnamese, French, German, Portuguese, Japanese)

【Expansion of inquiry language】
ATM intercom inquiries were only available in either Japanese or English in the past, but we added three languages (Chinese, Vietnamese, Portuguese) in April 2018. By September 2018 we will add more 4 languages (Tagalog, Spanish, Thai, Indonesian), in order to improve the convenience of foreign visitors and foreign resident in Japan.
Seven Bank will continue to support foreign visitors and foreign residents in Japan who will be to live comfortably in the future.