Materiality 2: Creation of lifestyle through new financial services
Changes in the society and associated issues as seen by Seven Bank
As the society changes and technology evolves, values and lifestyle of customers diversify, requiring financial services that are even closer and more convenient. Seven Bank believes that innovation in financial services that are not influenced by prevailing concepts and equal opportunity is necessary.
Trends in the Number of Households with Dual-Income Households

Source: Compiled based on the White Paper on Gender Equality, Gender Equality Bureau, Cabinet Office

Domestic Market Size and Forecast for Sharing Economy

Source: Yano Research Institute, Survey on the Sharing Economy (Shared Economy) Market (2017) (Announced on November 15, 2017)
Changes in Seven Bank and its approach to the issue
Seven Bank will build new financial services that are not influenced by prevailing concepts while reflecting the diversifying lifestyles and the spread of sharing economy and offer new values conforming to the changes of time in daily life.
Contributions to SDGs
By working on this Materiality, Seven Bank will contribute to the achievement of Sustainable Development Goals (SDGs) 8 and 9 through offering of financial services that are of value for all people by leveraging the touchpoints with its real customers.
Seven Bank's Major Initiatives
Offering New Financial Services that Respond to Changes in Society
Offering New Financial Services that Respond to Changes in Society
Launch of a Cash Receipt Service not through a Bank Account
The spread of e-commerce and the sharing economy are creating more opportunities for companies to send money to individuals. Amid this change, we launched our cash receipt service in May 2018. Customers can receive cash at a Seven Bank ATM at any time simply by entering a number sent to them by their company by e-mail, etc. This service greatly increases convenience for both parties, for companies do not need to collect and manage a customer's bank account information, as the transfers do not go through a bank account. In January 2018, we established a subsidiary, Seven Payment Service, Ltd., in anticipation of the launch of this service. We will work to have more companies sign up for the service and to offer convenient, easy-to-use services enabling accessing by more customers.

Partnering to Pioneer New Settlement Fields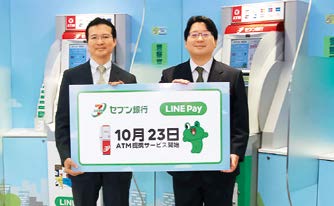 "As a new initiative, we are advancing new partnerships with non-financial institutions, such as providers of fund transfer service, to enable more customers to access our services. We launched ATM access partnerships with SoftBank Payment Service Corp. in August 2017, with LINE Pay Corporation in October 2017 and with the JCB PREMO Card, offered by JCB Co., Ltd., in March 2018. These partnerships make it possible to charge (make a deposit on) a SoftBank Card*1, LINE Pay*2 or a JCB PREMO Card*3 from our ATMs.
*1 A prepaid card issued by SoftBank Payment Service Corp.
*2 A mobile remittance and settlement service offered through the LINE communication app.
*3 A prepaid card that can be used at JCB PREMO member stores.
Advancing Smartphone ATM Services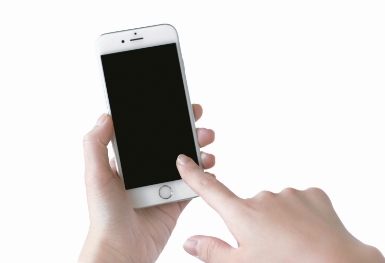 Smartphone ATM services allow customers to deposit and withdraw money without a card, using only their smartphones, by using an app to scan a QR code displayed on the ATM. We are working to offer this service by further increasing our partner companies so that more companies, not only our existing partner companies, but also settlement service providers that do not issue cash cards and/or those who provide settlement through smartphones can make use of Seven Bank ATMs.