Materiality 3: Creation of a society where everyone can be active
Seven Bank's Views on Changes in Society and Issues
As the birth rate declines, Japan is aging and its working-age population is declining. It is estimated that over the next 30 years or so, the productive-age population will decline to more than 20 million. In order to realize sustainable company growth, it is essential to create a working environment suitable for diverse human resources and diverse working styles. Particularly, there are many issues in promoting women's active participation, and many women are unable to work even if they want to work for many reasons, such as being unable to balance childcare and work and being unable to find employment after raising children. Seven Bank believes that improving productivity by enhancing the abilities of various employees, developing diverse human resources, and creating an environment in which everyone can play an active role will lead to enriching people's lives and sustainable development of social.
Population changes every 30 years

Source: Population Estimates by Statistics Bureau, Ministry of Internal Affairs and Communications
National Institute of Population and Social Security Research, "Population Projections for Japan (January 2012 estimate)"

Employment Rate by Age of Men and Women2018Year

Source: Ministry of Internal Affairs and Communications, Labor Force Survey
https://www.stat.go.jp/data/roudou/longtime/03roudou.html
Seven Bank's Stance on Changes and Challenges
Seven Bank recognizes that it is its responsibility as a corporation to contribute to the creation of a society in which diverse people can play an active role in diverse ways. For this reason, we will promote work-life synergies that enable each employee to maximize his or her potential by creating opportunities that can work regardless of gender, age, nationality, etc. and by creating a working environment that allows employees to work while raising children or caring for family members. In addition, we will contribute to the creation of a social in which all people can live fairly and equitably.
Contributes to SDGs
By engaging in this Materiality, Seven Bank will create environments where everyone can play an active role and contribute to the achievement of the SDGs Goals 3, 4, 5, 8, and 10.
Seven Bank's Major Initiatives
Providing Opportunities for Growth

Creating Safe Work Environments

ATMs that anyone can use comfortably

Support for Childcare and Persons with Disabilities
Providing Opportunities for Growth
Seven Bank provides opportunities for growth through business expansion that utilizes each individual employee's full potential.
Education and Training
Supporting Employees' Desire to Grow
For a company to grow, it is important to increase the capabilities of each individual employee. At Seven Bank, we divide employees' growth into two stages—one for the development of professional abilities and the other for the display of professional abilities—and hold various training programs to give employees the knowledge and skills they need at each stage. We are also emphasizing training that allows employees to communicate in foreign languages, and we support language studies with supplementary correspondence education and outside training.
Training and seminars provided by Seven Bank
Training for new employees
Training for employees who joined the Bank midcareer
Send employees to graduate courses (2 employees were sent during fiscal 2017)
Overseas training (2 employees were sent during fiscal 2017)
Training on communication
Aids for various types of e-learning (used by 116 employees during fiscal 2017)
Valuing an Attitude of Challenge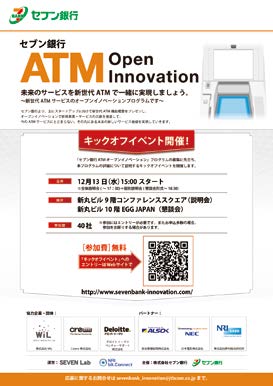 We value employees who pursue challenges on their own. To motivate employees toward new business creation, we provide a variety of support opportunities. Continuing from the previous year, during fiscal 2017, we held seminars with invited outside entrepreneurs, workshops to devise ideas for new businesses and other programs. One of our activities in the area of open innovation is to collect proposals from inside and outside the Bank for new services and businesses to be provided by our newest generation of ATMs. These proposals are presented to management and cooperating companies. Several ideas have been adopted and we are studying their business potential.
Creating Safe Work Environments
Employees need to have a safe work environment to utilize their full potential. We provide various types of support to allow flexible ways of working, so that our human resources, which are very important to the Bank, encounter no individual circumstances that prevent them from displaying their capabilities.
Embracing Diversity
Re-Challenge Plan
We have established a plan that helps employees continue working after having children, while caring for children or while caring for family members. This plan also helps people return to work after a temporary leave of absence.
Work-at-Home System
A work-at-home system has been in place to allow employees experiencing difficulty in commuting for such reasons as pregnancy, child care, nursing care for their family or injury to continue working.
Regular Employee Promotion System
In fiscal 2016, we introduced a system under which contract employees and associate employees (contract employees who have become permanent hires) who meet certain criteria can be hired as regular employees.
Temporary Employee System
Seven Bank has a system that allows employees who pass the retirement age of 60 to continue working until the age of 65 if they wish.
Employment of Persons with a Disability
From the perspective of normalization, we have a work environment where persons with a disability can work utilizing their abilities and aptitude.
Nursing Care Training
We offer training in nursing care for employees who need to provide such care to learn how to take advantage of Japan's nursing care system and continue working.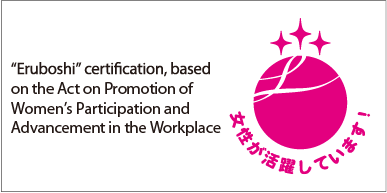 Promoting Participation by Women
Having met the criteria in the five evaluation categories for "Eruboshi" certification, we have received Level 3 certification, the highest grade, from the Ministry of Health, Labour and Welfare, as an excellent company in terms of providing an environment that promotes active participation by female employees. Going forward, we will work even harder to create an environment in which employees can perform their jobs in various work styles.
Activities Related to the Act on Advancement of Measures to Support Raising Next-Generation Children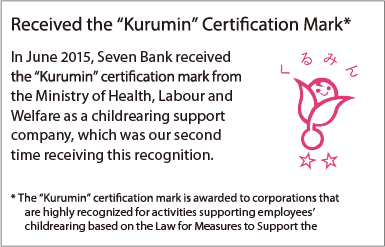 We are working to achieve a healthy work-life balance for our employees by "allowing them to take at least a certain amount of child-care leave," "improving the environment to allow both the Bank and the employees to respect daily lives" and "implementing measures that allow employees and their families to think about their work-life balance."
Promotion of employee's health
Seven Bank considers the physical and mental health of its employees to be the driving force behind the growth of the company, and is implementing a variety of initiatives to promote communication and health among employees.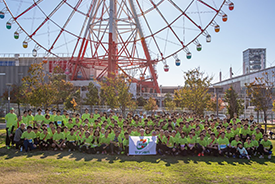 ATMs that anyone can use comfortably
Making the Letters Easy to View and Read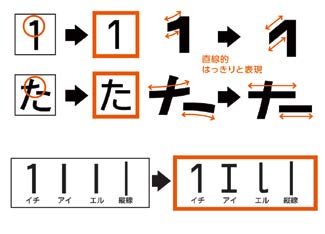 With a screen and letters that are easy to view for everyone, the Universal Design Font (UD font) has been adopted for Seven Bank ATMs. The UD font simplifies letters and improves layouts and spaces for easier distinction. It is designed for the comfortable readability of everyone regardless of age, gender or disability.
For Customers with Visual Impairment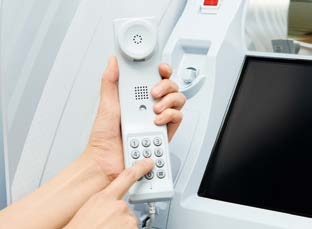 The ATM voice guidance service is available at all our ATMs. This service was developed based on feedback from persons with visual impairments. Listening to the voice guidance from the interphone attached to each ATM, customers can operate the buttons to withdraw or deposit money and check their balance. This service is also available to customers of approximately 540 financial institutions (deposit-taking financial institutions including banks and securities companies).
Installing a Cane/Drink Holder for Persons Using a Cane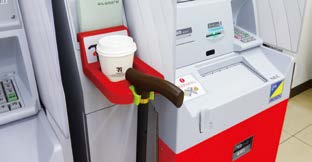 We have been installing a cane/drink holder on ATMs inside Seven-Eleven stores. During ATM transactions, customers can put a cane, an umbrella and/or a coffee cup in the holder, enhancing their convenience.
Easy-to-View Colors on the Transaction Screen

With easy-to-view colors for everyone's easier use of our products and services, our ATM transaction screen is Color Universal Design certified (CUD certified), excluding the screen with guidance on operational hours and ATM transaction fees.
※The "Color Universal Design (CUD)" is a concept of providing products and services that are easy to use regardless of the color-blindness type.
Support for Childcare and Persons with Disabilities
Cosponsoring "Guardian of the Forest Bonolon"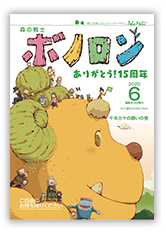 Since June 2005, Seven Bank has cosponsored a picture book, "Mori no Senshi (Guardian of the Forest) Bonolon," for children, distributing approximately 1 million copies per issue during even months at Seven-Eleven stores, Denny's and Famil restaurants, and York-Benimaru supermarkets, all of which are Seven & i Group companies, as well as at the staffed outlets of Seven Bank.
This picture book was issued to foster communication between children and their parents through reading to children the meaningful content to help nurture their inquisitive minds.
Topics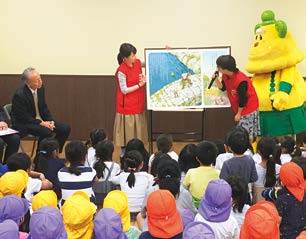 Donating the Picture Book "Mori no Senshi (Guardian of the Forest) Bonolon" to Be Read Aloud at 2,799 Children's Centers across Japan
Seven Bank has issued social contribution-type cash cards since 2011. For every issue of a cash card with the "Guardian of the Forest Bonolon" design, Seven Bank contributes 100 yen to donate picture books to children's centers nationwide.
In fiscal 2017, 54,783 customers chose the Bonolon cash card, the picture books were produced and donated to 2,799 children's centers.
In April 2018, a donation ceremony for the picture book was held at the Tairamachi Children's Hall in Tokyo's Meguro Ward, and a large version of the book was read aloud to the children who had gathered.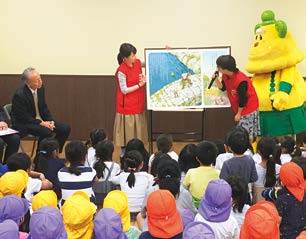 Dementia Supporter Training
To deepen employees' understanding about dementia and help make a more supportive environment for dementia patients and their families so that they can live peacefully, Seven Bank engages in nurturing Dementia Supporters*. At present, 86 employees have qualified as a Dementia Supporter to contribute to the safety and security of local communities.
※Persons who have a correct understanding of dementia and provide support for dementia patients and their families with a compassionate attitude