Materiality 3: Creation of a society where everyone can be active
Seven Bank's Views on Changes in Society and Issues
As the birth rate declines, Japan is aging and its working-age population is declining. It is estimated that over the next 30 years or so, the productive-age population will decline to more than 20 million. In order to realize sustainable company growth, it is essential to create a working environment suitable for diverse human resources and diverse working styles. Particularly, there are many issues in promoting women's active participation, and many women are unable to work even if they want to work for many reasons, such as being unable to balance childcare and work and being unable to find employment after raising children. Seven Bank believes that improving productivity by enhancing the abilities of various employees, developing diverse human resources, and creating an environment in which everyone can play an active role will lead to enriching people's lives and sustainable development of social.
Population changes every 30 years

Source: Population Estimates by Statistics Bureau, Ministry of Internal Affairs and Communications
National Institute of Population and Social Security Research, "Population Projections for Japan (January 2012 estimate)"

Employment Rate by Age of Men and Women2018Year

Source: Ministry of Internal Affairs and Communications, Labor Force Survey
https://www.stat.go.jp/data/roudou/longtime/03roudou.html
Seven Bank's Stance on Changes and Challenges
Seven Bank recognizes that it is its responsibility as a corporation to contribute to the creation of a society in which diverse people can play an active role in diverse ways. For this reason, we will promote work-life synergies that enable each employee to maximize his or her potential by creating opportunities that can work regardless of gender, age, nationality, etc. and by creating a working environment that allows employees to work while raising children or caring for family members. In addition, we will contribute to the creation of a social in which all people can live fairly and equitably.
Contributes to SDGs
By engaging in this Materiality, Seven Bank will create environments where everyone can play an active role and contribute to the achievement of the SDGs Goals 3, 4, 5, 8, and 10.
Seven Bank's Major Initiatives
Developing Human Resources to Support Sustainable Growth

Creating Safe Workplaces Where Diverse Human Resources Can Work
ATMs that anyone can use comfortably

For the Development of Local Communities
Developing Human Resources to Support Sustainable Growth
"Human resources" are one of the most important assets for Seven Bank's continuous growth. We are working to create an environment in which all employees can utilize their full potential.
Basic Views on Human Resources
Seven Bank expects its employees to pursue challenges on their own, have bold ambition for growth and possess strong communication skills. These characteristics are essential for achieving one of our management policies: "We act to promptly introduce the benefits of technical innovation and pursue self-development." We believe that having employees harness their unique characteristics and leverage their capabilities for growth leads to the growth of the Bank. All our systems and policies incorporate this thinking.
In April 2019, we modified our human resources system to respond to changes in our business stage and increase employee motivation. We plan to make further system reforms as we track business and social trends
Hiring Human Resources
With regard to hiring, the Seven & i Group's "Corporate Action Guidelines" follow the principles that we "prohibit discriminatory treatment" and "endeavor to offer equal employment opportunities."
We plan on the steady hiring of new graduates every year. After being assigned to their positions, these new hires are given a mentor in the workplace and receive support for about six months. We develop these hires with a focus on the medium to long term, while confirming their aptitudes through appropriate rotation to identify each individual's potential. We also actively employ midcareer hires with extensive knowledge and experience.
Performance Evaluation
We believe that a performance evaluation is not simply a way to determine compensation but also a factor in promoting employee growth. As such, we endeavor to make our evaluations fair and highly transparent. Seven Bank clearly defines its expectations by job grouping and job level within the organization, and evaluates both conduct, which encourages employees to contribute more to the Company, and performance, which promotes further growth by achieving high performance targets.
Human Resources Education and Development
For a company to grow, it is important to increase the capabilities of each individual employee. At Seven Bank, we divide employees' growth into two stages one for developing professional abilities and the other for displaying professional abilities and offer various training programs to give employees the knowledge and skills they need at each stage. We also support employees' voluntary studies through a "self-development program" that allows them to choose things they want to learn like a foreign language or computer programming and pursue those studies through correspondence courses or classroom instruction.
Creating Safe Workplaces Where Diverse Human Resources Can Work
Seven Bank believes that the goal of work-style reform is to create an environment where employees can work autonomously and grow. To this end, we have created a system that gives employees more freedom to decide the hours and places they work. Employees need to have a safe work environment to utilize their full potential. We provide various types of support to allow flexible ways of working, so that our human resources, which are very important to the Bank, encounter no individual circumstances that prevent them from displaying their capabilities.
Promoting Participation by Women
To enable female employees to utilize their skills and build careers, Seven Bank is working to increase medium- to long-term employee retention through initiatives that allow women to continue working through various life stages (marriage, childbirth, child rearing, nursing care, etc.) and by creating an environment in which they can maintain a favorable work-life balance.
Topics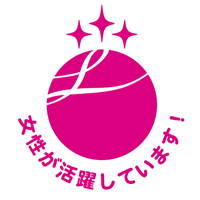 "Eruboshi" Certification Mark
Having met the criteria in the five evaluation categories for "Eruboshi" certification, we have received Level 3 certification, the highest grade, from the Ministry of Health, Labour and Welfare, as an excellent company in terms of providing an environment that promotes active participation by female employees.
Promoting Measures to Support Raising Next-Generation Children
To enable employees to achieve work-life synergy, Seven Bank seeks to "create an environment that supports both work and child rearing" and "create an environment that promotes lexible work styles to achieve a work-life balance." Speciic measures include the expansion of staggered working hours and "no overtime" weeks to prevent excessive workloads.
Topics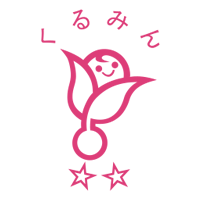 Received the "Kurumin" Certification Mark*
In June 2015, Seven Bank received the "Kurumin" certiication mark from the Ministry of Health, Labour and Welfare as a company that supports childrearing, our second time to receive this recognition.
* The "Kurumin" certiication mark is awarded to corporations that are highly recognized for activities supporting employees' childrearing based on the Act on Advancement of Measures to Support Raising Next-Generation Children.
Support for Participation by Persons with Disabilities
To hire and retain persons with disabilities, we give consideration to creating a work environment where they can easily work. These considerations include training using the Tokyo Vocational Center for Persons with Disabilities and introducing a translation tool (UD Talk) for persons with hearing disabilities.
We also revise and develop new job descriptions that enable the transition from part-time to full-time employment.
Other Major Systems and Initiatives that Support Diversity
Re-Challenge Plan (a plan that helps employees continue working after having children or while caring for children or other family members, with leaves of absence, shorter working hours and exemption from overtime and holiday work)
Child-Care Leave (paid leave to care for children)
Nursing Care Training (training to thoroughly inform employees that they can use our systems to continue working even if they must care for a family member)
Work-at-Home System (a system that allows employees to work from home if for some reason commuting is dificult)
Regular Employee Promotion System (a system whereby contract employees and associate employees contract employees who have become permanent hires who meet certain criteria can be hired as regular employees)
Temporary Employee System (a system that allows employees who pass the retirement age of 60 to continue working until age 65 if they so desire
Master Employee System (a system that allows temporary employees to choose to be employed and work as master employees for a ixed contract period)
Data on Diversity
Data on employees and employment (As of March 31, 2020)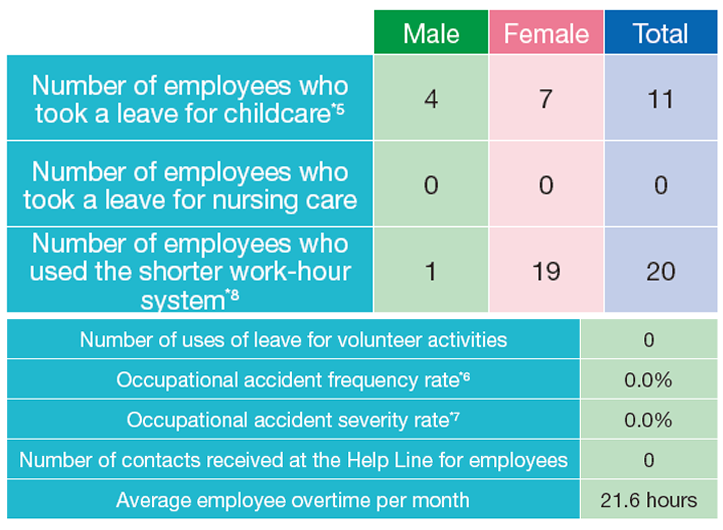 Numbers of employees promoted to regular employees under Regular Employee Promotion System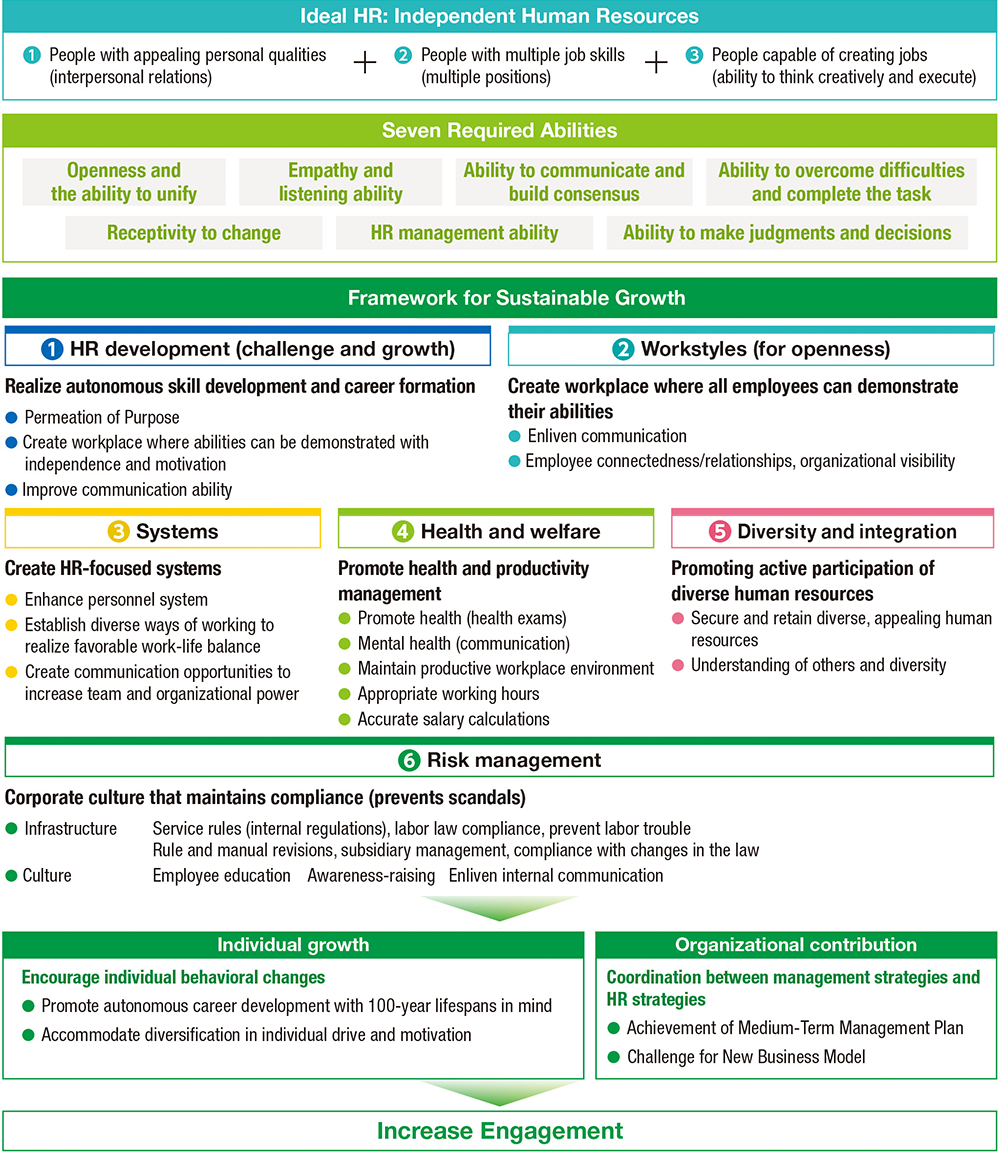 *1 Excluding oficers, executive oficers, employees seconded from the Bank to external companies, part-time employees and temporary staff; and including employees seconded from external companies to the Bank
*2 Number of part-time employees: average number of workers per month assuming eight work hours a day
*3 Ratio of female managers excludes those seconded from the Bank to Seven & i Group companies and those seconded to the Bank from companies outside the Group but includes those seconded to the Bank from Group companies.
*4 Ratio of employment of persons with disabilities as of April 1, 2020
Data on employees and employment (Fiscal 2019)

*5 Number of employees who took child-care leave in iscal 2019
*6 Occupational accident frequency rate = (Number of occupational accidents occurred/Cumulative work hours) × 1,000,000
*7 Occupational accident severity rate = (Lost work days due to an accident/Cumulative work hours) × 1,000
Maintaining and Promoting Employee Safety and Health
Seven Bank has speciied occupational safety and health regulations. In accordance with these regulations, a Safety and Health Committee that meets monthly has been established. We have introduced health data management tools for employee health management, enabling the uniform management of such information as the results of health examinations and consultations with industrial physicians or public health nurses.
In addition, we hold "no overtime weeks" twice a year as an effort to reduce overtime. Employees whose overtime hours become longer are interviewed and given health consultations by an industrial physician or a public health nurse.
At the same time, we are proactively implementing work-style reforms on the assumption of coexistence with the novel coronavirus. We are working to prevent the spread of infections through measures like teleworking and staggered working hours, and continue to support the "new styles of work" being called for by the national and local governments. We are working to maintain the safety and security of business partners, employees, and other parties as a company that operates continuously as part of the social infrastructure to support the daily lives of our customers.
ATMs that anyone can use comfortably
Making the Letters Easy to View and Read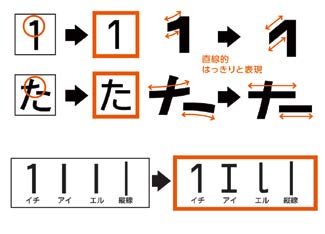 With a screen and letters that are easy to view for everyone, the Universal Design Font (UD font) has been adopted for Seven Bank ATMs. The UD font simplifies letters and improves layouts and spaces for easier distinction. It is designed for the comfortable readability of everyone regardless of age, gender or disability.
Installing a Cane/Drink Holder for Persons Using a Cane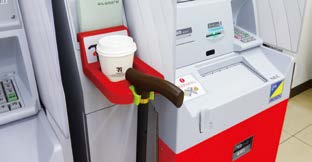 We have been installing a cane/drink holder on ATMs inside Seven-Eleven stores. During ATM transactions, customers can put a cane, an umbrella and/or a coffee cup in the holder, enhancing their convenience.
Easy-to-View Colors on the Transaction Screen

With easy-to-view colors for everyone's easier use of our products and services, our ATM transaction screen is Color Universal Design certified (CUD certified), excluding the screen with guidance on operational hours and ATM transaction fees.
※The "Color Universal Design (CUD)" is a concept of providing products and services that are easy to use regardless of the color-blindness type.
For the Development of Local Communities
Raising Awareness of ATMs' Voice Guidance Service for Customers with Visual Impairment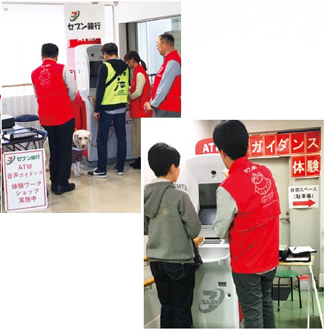 Seven Bank offers a voice guidance service that enables persons with visual impairment to use ATMs with peace of mind by listening to instructions and needing only to press buttons to withdraw or deposit cash. To raise awareness and promote the use of this service, we held a demonstration event for voice guidance service at the Japan Braille Library Open Office* in November 2019. To remove barriers for the use of ATMs, we asked persons with visual impairments and other people attending the event to actually use an ATM and experience listening to the voice guidance. With the aim of creating a society in which anyone can participate, we are working with various parties to raise awareness of the service, while also striving to provide services that are easy for anyone to use.
* Japan Braille Library Open Office: A public event held by the Japan Braille Library featuring workshops to introduce activities being undertaken for persons with visual impairment
Beginning ATM Partnerships with Electronic Community Currencies
Seven Bank ATMs are now able to upload funds to the AQUACOIN*1 and SARUBOBO COIN*2 electronic community currencies with no fee charged. Electronic community currencies were created with the aim of using money for the mutual promotion of local production for local consumption. These are the first cases in Japan of ATMs uploading funds to electronic community currencies, a use of the latest technologies to assist in community revitalization by increasing the number of users.
*1 AQUACOIN is an electronic community currency being promoted cooperatively by the Kimitsu Credit Union, the city of Kisarazu, and the Kisarazu Chamber of Commerce and Industry.
*2 SARUBOBO COIN is an electronic community currency provided by the Hida Credit Cooperative.
Cosponsoring "Guardian of the Forest Bonolon"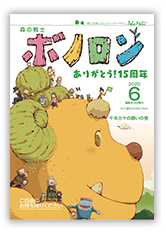 Since June 2005, Seven Bank has cosponsored a picture book, "Mori no Senshi (Guardian of the Forest) Bonolon," for children, distributing approximately 1 million copies per issue during even months at Seven-Eleven stores, Denny's and Famil restaurants, and York-Benimaru supermarkets, all of which are Seven & i Group companies, as well as at the staffed outlets of Seven Bank.
This picture book was issued to foster communication between children and their parents through reading to children the meaningful content to help nurture their inquisitive minds.
Topics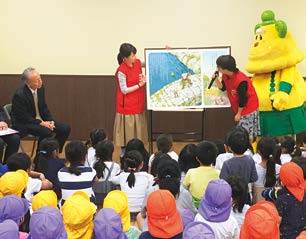 Donating the Picture Book "Mori no Senshi (Guardian of the Forest) Bonolon" to Be Read Aloud at 2,679 Children's Centers across Japan
Since 2011, Seven Bank has issued social contribution-type cash cards with a Bonolon design. For every card issued, Seven Bank contributes 100 yen toward an ongoing program of producing and donating special editions of "Mori no Senshi Bonolon" to children's centers nationwide.
In fiscal 2019, 56,227 customers chose the Bonolon cash card, and we produced and donated special edition picture books to 2,679 children's centers in Japan.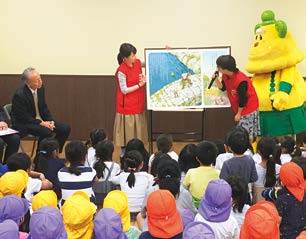 Dementia Supporter Training
We are training Dementia Supporters* to deepen employees' understanding of dementia and help create a more supportive environment for dementia patients and their families, as a way of contributing to the safety and security of local communities.
* Persons who have a correct understanding of dementia and provide support for dementia patients and their families with a compassionate attitude