Monthly Auto-Deposit Service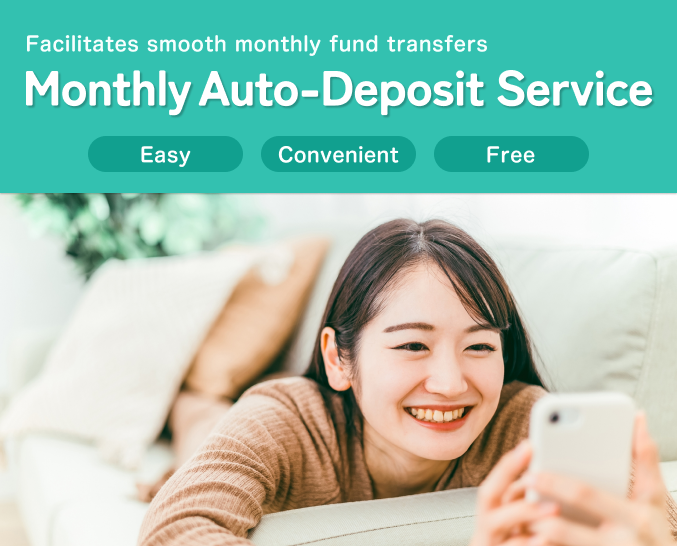 Monthly Auto-deposit service is a free service that automatically deposits money to your Seven Bank account on a monthly basis. Money is automatically withdrawn from your other account at another financial institution/bank.
Service Flow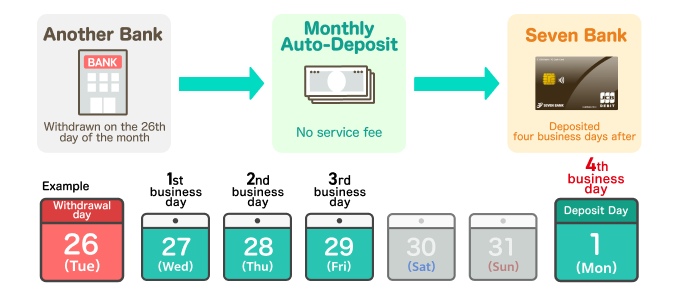 The first withdrawal will be made on the first 26th day of the month (or the next business day if the 26th day falls on a Saturday, Sunday or holiday) not less than eight business days after the application date.
After you have registered, an email from "Monthly Auto-Deposit" Service will be sent from the following domain.


セブン銀行<info@nekonet.co.jp>


Please designate the above domain if your email account is set to divert or reject messages from unknown addresses.
Change or cancellation of amount for auto-debit can be changed from Direct Banking Service. However, if you miss the given deadline for each month, change will take effect the next month.
Money will be deposited in your Seven Bank account five business days after the withdrawal day. Please be advised that money set for auto-debit cannot be withdrawn during this period.
If money cannot be withdrawn from your account at the bank registered for withdrawal due to lack of funds or other reasons, we will suspend providing this service to you.
List of available banks

Auto-debit day / Auto-deposit Day
年

月

手続受付期限日
(新規申込・金額変更・停止・解約)
引落日の8営業日前まで

(Deadline date for procedures)

引落金融機関の預金口座からの引落日
26日
銀行休業日(土・日・祝日)の場合は翌営業日

(Debit date)

セブン銀行口座への入金日
引落日の5営業日後

(Deposit date)

2018

1

2018/1/16
(火:Tue)

2018/1/26
(金:Fri)

2018/2/2
(金:Fri)

2018

2

2018/2/14
(水:Wed)

2018/2/26
(月:Mon)

2018/3/5
(月:Mon)

2018

3

2018/3/13
(火:Tue)

2018/3/26
(月:Mon)

2018/4/2
(月:Mon)

2018

4

2018/4/16
(月:Mon)

2018/4/26
(木:Thu)

2018/5/8
(火:Tue)

2018

5

2018/5/16
(水:Wed)

2018/5/28
(月:Mon)

2018/6/4
(月:Mon)

2018

6

2018/6/14
(木:Thu)

2018/6/26
(火:Tue)

2018/7/3
(火:Tue)
2018 Yearly Schedule

How to apply (Only for customers registered to International Money Transfer Service or Loan Service)
【For customers who haven't registered yet to Direct Banking Service】
Please click the following button to register for the first time.