Guardian of the Forest Bonolon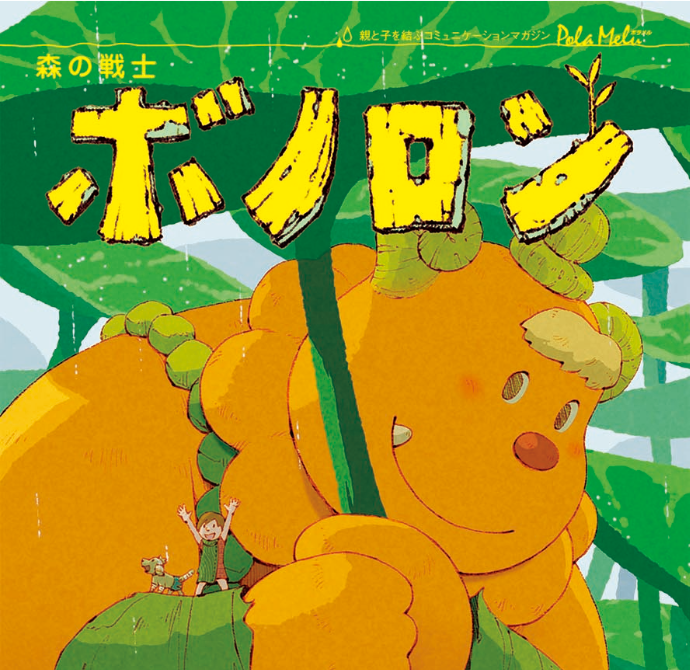 Seven Bank raises Bonolon
Seven Bank has been involved in the production and distribution of picture books in order to popularize the communication magazine "Guardian of the Forest Bonolon," which links the parents and children produced by Mr. Tetsuo Hara.
Picture book "Guardian of the Forest Bonolon"
to be read aloud
For the Development of Local Communities
Picture book "Guardian of the Forest Bonolon"
to be read aloud
The phrase "picture book to be read aloud" is a Japanese
folk tale that conveys stories in an easy-to-understand manner.
This is a story that mothers and fathers can read while watching
the child's face and confirming his/her response.
"Guardian of the Forest Bonolon" was issued to foster communication
between children and their parents through reading to children the meaningful
content to help nurture their inquisitive minds.
Bonolon is distributed at Seven Bank's head office and staffed outlets,
Seven-Eleven stores, Denny's, and other locations throughout Japan. (Issue date: 15th of even month)
* At some Seven-Eleven stores, distribution may have finished due to limited quantities. Please accept.
Cosponsoring "Guardian of the Forest Bonolon"
"Guardian of the Forest Bonolon" is a picture book distributed about 1 million copies per issue during even months with the aim of promoting parent-child communication through reading and hearing. Seven Bank supports this objective and cosponsors Bonolon. In addition to distributing picture books at Seven Bank's staffed stores, we also ask Seven-Eleven stores and Denny's to distribute them, and we also plan a picture book with the editing.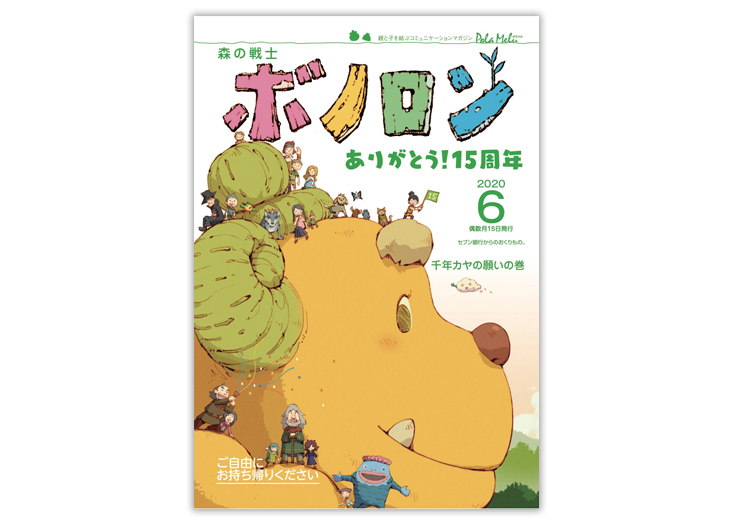 Picture-book-based painting contest and photo solicitation
Seven Bank is also communicating with readers by organizing events that allow readers to easily participate in Bonolon. Since 2006, we have held a "Picture Competition" every summer to solicit entries. Every time, many children submit works, and the award-winning works are presented in the book.
We also recruit photos of children with Bonolon and post them on the book.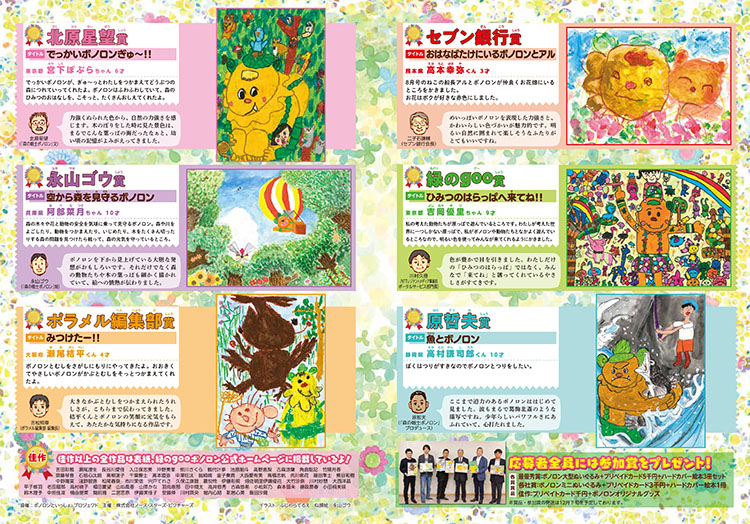 Winners presentation page
The World of Bonolon
Bonolon is the guardian of the forest of Tasmun, the spiritual dwelling of a giant tree. He is nine years old, a boy with a large build in an orange complexion.
Everybody trusts him because he has a strong sense of justice.
When human tears of sadness trickle down on the giant tree, it reaches the forest of Tasmun through its roots. Bonolon hears the reason of the tears from the giant tree and decides to appear before the human being, trying to encourage people to overcome the issues without relying on his magical powers—truly kind at heart, Bonolon makes wishes come true through a gentle push on the back.
(The World of Bonolon: https://www.goo.ne.jp/green/bonolon/ehon/about.html)
Guardian of the Forest Bonolon -Communication Magazine Polamel for Parents and Children (Not for Sale)-
produce
Mr. Tetsuo Hara
Story
Mr. Kitahara Seibou
Illustration
Mr. Gou Nagayama
Cosponsor
Seven Bank, Ltd.
Cooperate
Seven-Eleven stores nationwide
Seven-Eleven Japan Co., Ltd.
Seven & i Food Systems Co., Ltd.
York-Benimaru Co., Ltd.
Akachan Honpo Co., Ltd.
For the Development of Local Communities
Issuance of Social Contribution-Type Cash Cards
Contributing to Society through Bonolon Cash Cards
Since July 2011, we have been issuing cash cards designed Bonolon to customers who wish when they apply for Seven Bank accounts.
As part of our social contribution activities, we donated 100 yen per Bonolon cash card from Seven Bank. The picture book Bonolon is specially edited and donated to a children's center.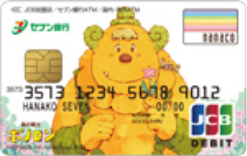 Bonolon cash card
Holding of Bonolon Read Aloud Event
The Bonolon Read Aloud Event, an event in which employees read aloud large-scale Bonolon picture books to children, is held at children's halls and other facilities.