Select a language from below.
Select the language after inserting the card. (English, Chinese, Korean,Thai, Malay, Indonesian, Vietnamese,French , German, and Portuguese.)
Withdrawing with a Visa card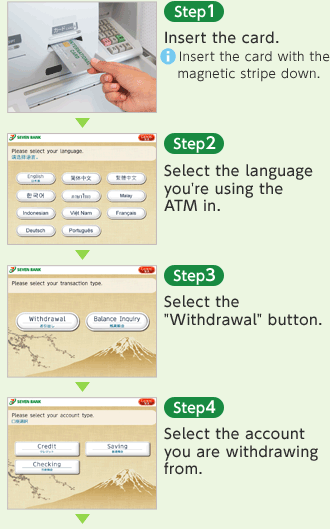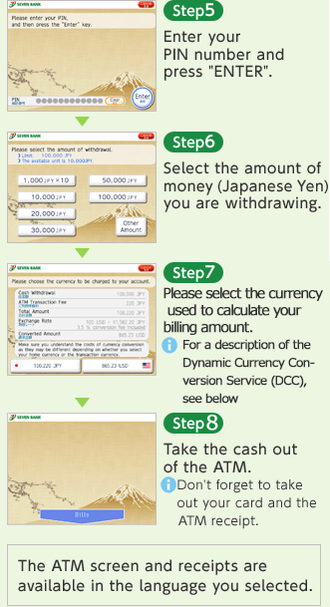 Dynamic Currency Conversion Service (DCC)
The "Dynamic Currency Conversion Service (DCC)" is a service that allows foreign visitors to Japan to select the currency in which they wish to make ATM transactions, either in their home country's currency or in Japanese yen.
If "home county's currency" is selected, the amount of money can be determined in the customer's home country's currency at the time the ATM is used.
If "Japanese yen" is selected, the transaction is settled in yen, and the amount used in the home country's currency is fixed at the time of billing at a later date.

| Card name | Mark | Permitted time |
| --- | --- | --- |
| VISA | | 00:00~24:00 |
| Mastercard | | 00:00~24:00 |
*

JCB, Discover, UnionPay,American Express and Diners Club cards are not accepted for the Dynamic Currency Conversion Service.
ATM Usage Notes

・

For cards issued overseas, the limit for each withdrawal is 100,000 yen.
The limit for magnetic stripe card transactions is 30,000 yen.

・

Note, for transactions that incur service charges, a fee is charged for the number of transactions.

・

If the withdrawal limit is exceeded, reduce the withdrawal amount and perform the transaction again.

・

If an incorrect PIN error is triggered, contact the company that issued the card.

・

ATMs may not be available due to system maintenance etc.