Materiality 4: Reduction of environmental burden
Changes in the society and associated issues as seen by Seven Bank
Environmental problems and the deterioration of biodiversity around the world is a serious issue that significantly impacts the future of a company's business such as resources and economy. In particular, climate change risks can be a serious threat that impacts future generations, causing rises in sea level, increase in abnormal weather and affects agriculture and fishing industries, and therefore it is necessary to strengthen initiatives to reduce the burden on the environment.
Long-term trends in sea level temperature (change mean)

Source: Japan Meteorological Agency's Diagnostic Table on Global Warming

How much did Japan's temperature rise?

Source: Japan Meteorological Agency, Climate Change Monitoring Report 2017, Japan Center for Global Warming Prevention Activities, website (http://www.jccca.org/)
Changes in Seven Bank and its approach to the issue
Seven Bank will work on the reduction of environmental burden through offering of financial services that incorporate technological innovation and promote improvement in employees' environmental awareness and activities to preserve the natural environment in cooperation with its group companies.
Contributions to SDGs
By working on this Materiality, Seven Bank will contribute to the achievement of Sustainable Development Goals (SDGs) 7, 9, 12 and 13 through the promotion of reducing environmental burden and activities to preserve natural environment.
Seven Bank's Major Initiatives
Activities to Combat Climate Change

Environmental conservation activities in cooperation with group companies
Activities to Combat Climate Change
Environmental problems and the global loss of biodiversity, issues intrinsically related to corporate activity in terms of both resources and economics, are intensifying.
In particular, risks from climate change, including rising sea levels, increased incidence of unusual weather events, and the impact on the farming and fishing industries, pose major threats that will spill over to future generations, which is why we need to reduce our environmental burden.
Given that these effects are closely tied to our services and society as a whole, Seven Bank views the problem of climate change as a major social issue that needs to be prioritized.
To achieve a business model aligned with a sustainable society, Seven Bank factors environmental considerations into its operational design for ATM development and operations, providing financial services that incorporate technological advances to reduce our environmental burden, while also raising environmental awareness among employees and promoting environmental preservation activities in cooperation with Group companies.
Reducing ATM Energy Consumption
The fourth-generation ATMs that we began installing in September 2019 reduce energy consumption by roughly 40% compared with the third-generation models. With roughly 25,000 ATMs in operation, this equates to an approximately 10,000-ton* reduction in yearly CO2 emissions. We have proactively introduced cutting-edge technologies in these ATMs, including an energy-saving mode that activates when transactions are not being conducted. We are also promoting the effective use of resources by using durable parts and recyclable materials.
* Calculated with a CO2 emission coefficient of 0.000500t-CO2/kWh
Increasing ATM Lifetimes and Recycling
We actively introduce recycled materials and easy-to-maintain construction from the ATM design stage. We design ATMs for long lifetimes, replacing parts or performing maintenance when a malfunction occurs. When replacing or removing an ATM in a 7-Eleven store being remodeled or closed, we collect the old ATM and maintain and reuse it if possible. We also reuse parts from old ATMs, recycle aged units and handle unrecyclable ATM units with the help of recycling business operators, thus achieving a recycling rate of 100% for ATMs.
Reducing the Incidents of ATM Cash Transportation
A security company is needed to transport cash by vehicle when an ATM must be replenished. The security company helps reduce CO2 emissions from transporting cash by analyzing the usage of each ATM separately and reducing the incidents of cash transportation. In addition, we keep ATMs stocked with cash and achieve stable, efficient operation by putting cash from sales proceeds at a 7-Eleven store into its ATM. This also makes 7-Eleven store operations more efficient by eliminating the need to take sales proceeds to a bank or an ATM outside the store for deposit. In these ways, we maintain low-cost operations, while achieving an operating rate of 99.98%.
Utilization of Forest Stewardship Council (FSC®) Certified Paper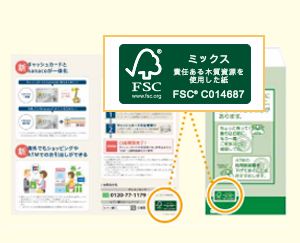 We use FSC® certified paper for the cash envelopes and various leafl ets at our ATMs and copies of the children's picture book "Mori no Senshi (Guardian of the Forest) Bonolon," which are distributed mainly at 7-Eleven stores.
The international "Forest Stewardship Council (FSC®) certification" system awards certification to properly managed forests and the appropriate processing and distribution of lumber from such forests.
Seven Bank will continue to expand the use of environment-friendly FSC certified paper.
Environmental Considerations at Our Offices
CO2 emissions from the production, logistics and disposal of this integrated report are 9,623 kg, which is offset by the domestic credit.
Environmental initiatives introduced in fiscal 2019 included a shift to paperless meetings and revised standards for document safekeeping.
Environmental conservation activities in cooperation with group companies
Employees' Environmental Preservation Activities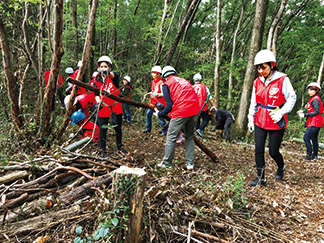 In 2019, we engaged in a variety of initiatives, including participation in forest preservation activities through the Seven Forest project in cooperation with the Seven-Eleven Memorial Foundation, community cleanup activities, and food donations to food banks. These activities help raise the environmental awareness of every employee.
Initiatives to Raise Environmental Awareness
We are working to raise employees' environmental awareness by encouraging employees to obtain Eco Test®* certification. We promote certification by reimbursing the full amount of the test fee for employees who pass the Eco Test®. Since fiscal 2014, 181 employees have achieved certification, an indication of the extent to which environmental awareness among employees has risen. Employees of the entire Seven & i Group proactively volunteer in various activities, including those carried out by the Bank, to contribute to the preservation of the earth's environment and to local communities.
* Eco Test®: The Certification Test for Environmental Specialists®, given by the Tokyo Chamber of Commerce and Industry