Materiality 4: Reduction of environmental burden
Changes in the society and associated issues as seen by Seven Bank
Environmental problems and the deterioration of biodiversity around the world is a serious issue that significantly impacts the future of a company's business such as resources and economy. In particular, climate change risks can be a serious threat that impacts future generations, causing rises in sea level, increase in abnormal weather and affects agriculture and fishing industries, and therefore it is necessary to strengthen initiatives to reduce the burden on the environment.
Long-term trends in sea level temperature (change mean)

Source: Japan Meteorological Agency's Diagnostic Table on Global Warming

How much did Japan's temperature rise?

Source: Japan Meteorological Agency, Climate Change Monitoring Report 2017, Japan Center for Global Warming Prevention Activities, website (http://www.jccca.org/)
Changes in Seven Bank and its approach to the issue
Seven Bank will work on the reduction of environmental burden through offering of financial services that incorporate technological innovation and promote improvement in employees' environmental awareness and activities to preserve the natural environment in cooperation with its group companies.
Contributions to SDGs
By working on this Materiality, Seven Bank will contribute to the achievement of Sustainable Development Goals (SDGs) 7, 9, 12 and 13 through the promotion of reducing environmental burden and activities to preserve natural environment.
Seven Bank's Major Initiatives
Activities to Combat Climate Change

Environmental conservation activities in cooperation with group companies

Astable, efficient operation of Seven Bank ATMs
Activities to Combat Climate Change
Focusing on Energy Conservation to Reduce CO2 Emissions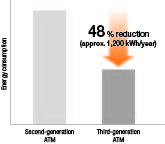 Energy consumption of our third-generation ATMs is 48% less than that of our second-generation ATMs. As a result of replacing all 24,000 units nationwide with third-generation ATMs, CO2 emissions were reduced by approximately 16,000 tons* a year. A significant reduction in energy consumption was achieved by aggressively adopting cutting-edge technologies to set our ATMs on an energy-saving mode when a transaction is not ongoing and by switching the back light of the display to an LED light. We are also promoting the effective use of natural resources by using durable parts and recyclable materials.
We strive to recycle aged ATM units and Uninterruptible Power Supply (UPS) batteries with the help of recycling business operators.
* CO2 emissions were calculated assuming 1 Wh = 0.579 g.
Utilization of FSC Certified Paper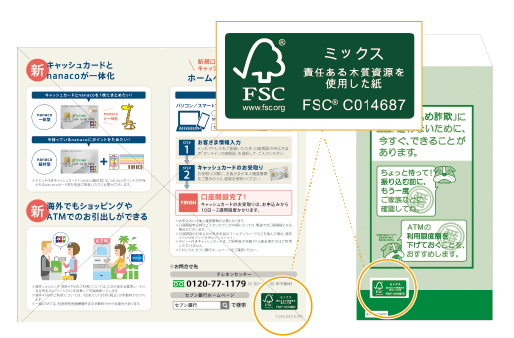 use FSC certified paper for the cash envelopes and various leaflets at our ATMs and copies of the children's picture book "Mori no Senshi (Guardian of the Forest) Bonolon," which are distributed mainly at Seven-Eleven stores.
The international "Forest Stewardship Council (FSC) certification" system awards certification to appropriately managed forests and the appropriate processing and distribution of lumber from such forests. Seven Bank will continue to expand the use of environment-friendly FSC certified paper.
Environmental Considerations at Our Offices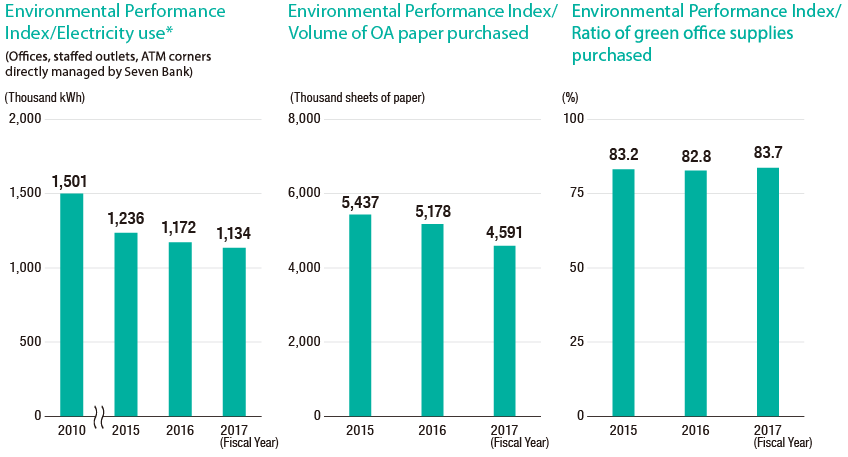 ※Mainly based on requests from the government, with fiscal 2010 used as the standard.
The data on 24,000 units of ATMs nationwide are not included in the chart above because the electricity to run the ATMs is from the facilities that house our ATMs.
Reducing paper consumption
We save paper resources together with our customers by allowing them to choose slips "necessary" or "unnecessary" on ATM screens. In addition, by changing recording method from the conventional receipt roll to the hard disk built in the ATM, we have significantly reduced paper consumption.
Environmental conservation activities in cooperation with group companies
Employees' Environmental Preservation Activities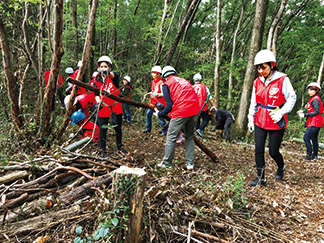 Employees of the entire Group proactively volunteer in various activities, including those carried out by the Bank, to contribute to the preservation of the earth's environment and to local communities.
In September 2017, we worked with the NPO Arakawa Clean-aid Forum to clean roughly 100 meters of shoreline along the Arakawa river, with 83 employees and family members participating. After plastic bottles, plastic bags and other packaging materials were collected, the trash was sorted and weighed, and the volunteers discussed how the amount of trash could be reduced.
Initiatives to Raise Environmental Awareness
We are working to raise employees' environmental awareness through a campaign to obtain Eco Test®* certification. Employees who pass the test have the full amount of the test fee reimbursed by the Bank. Since fiscal 2014, 110 employees in total have obtained Eco Test®※ certification.
※Eco Test®: The Certification Test for Environmental Specialists®, given by the Tokyo Chamber of Commerce and Industry
As a representative activity, we participate in activities in Seven Forest to nurture forests ranging from planting trees to thinning and mowing. We contribute to the conservation of forests and the prevention of global warming, and also promote environmental awareness among employees through environmental conservation activities.
Stable, efficient operation of Seven Bank ATMs
Reducing the number of times cash has to be delivered to an ATM
Seven Bank ATMs seek to provide services as social infrastructure 24 hours a day, 365 days a year. This means that we need to prevent service interruption that might happen when an ATM runs out of cash or for another reason. In addition to having security companies replenish cash, sales proceeds from a Seven-Eleven store can be deposited into an ATM. This provides funds to ATMs, which enables their stable, efficient operation and also hedges against the risk of higher interest rates. It also makes store operations more efficient by eliminating the need to take the sales proceeds to a bank for deposit. In addition, reducing the number of times cash has to be delivered to an ATM contributes to a reduction in CO2 emissions in logistics.
In these ways, we maintain an awareness of low-cost operations while achieving an average operating rate of 99.98%.