You earn nanaco points in accordance with the amount of money you spend with the Seven Bank Debit Card Service.
You can select either a nanaco integrated cash card or a nanaco linked cash card when you apply for a nanaco card or nanaco mobile that earns points.
Integrated card

I want to have the Cash Card with Debit Card Service and nanaco both on one card!
*

A new nanaco will be issued which will be integrated into your Debit Card.
Please note that even if you have existing nanaco card on you, you can not transfer its points and balance to your Debit Card.
Linked card

I want to earn points on the nanaco card I have now
*

Note that nanaco logo will not appear on your Debit Card (If your existing nanaco is linked to this card)

*

Points will be atutomatically accumulated in the nanaco number you designated during registration.

*

If you want use your current nanaco card (or senior nanaco card), apply for a linked card.
Earn lots of nanaco points!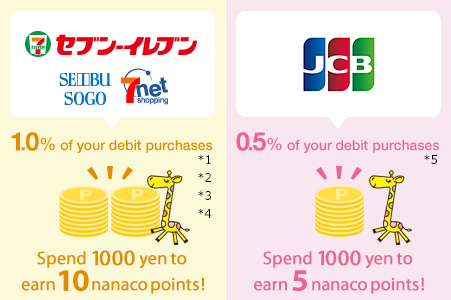 *1

Purchases paid by debit cards are not eligible for nanaco bonus points, which are awarded at some member stores (e.g. Seven & i Group stores).

*2

Food, beverage, specialty stores, and the like award points at the same rate as other JCB merchants (0.5% of the purchase amount).

*3

Ito-Yokado, York Mart, and Seven & i Group stores other than the above award points at the same rate as other JCB merchants (0.5% of the purchase amount).

*4

Purchases on Ito-Yokado "Happy Days" with the Debit Card Service are not subject to discounts.

*5

nanaco points are not awarded for payments at some JCB merchants (e.g. electronic money charges and donations) and cash withdrawals in local currency from ATMs overseas.
nanaco points are calculated by month in accordance with the amount spent with the Debit Card Service and are added on the 15th of every month as the amount deposited at the center.

The point calculation period is one month from the 16th of two months previous to the 15th of the previous month.

The point calculation period is based on the Bank's processing time, so the points may differ to the time when the charged amount is withdrawn from your account.

Before using this service, make sure that you check the "Point Service Terms of Use"

If you breach or there is a suspicion that you have breached the "Point Service Terms of Use", the service may be terminated or your registration canceled.

The Bank will not grant or cancel points from customer requests. The Bank will make any decision whether to award points, the number of points to award, and the awarding of other points.

This service may be changed or ended without notice at the Bank's convenience.