Notification
JAPAN'S FIRST ATM SERVICE IN 12 LANGUAGES
Seven Bank ATM provides ATM services that allow you to withdraw cash in Japanese Yen by using cash cards and credit cards issued outside Japan.
We have now expanded the number of available languages from 5 to 12, as to the ATM interface, receipt, and the voice guidances used in ATM transactions with foreign-issued cards.
After you insert a foreign-issued card to the ATM, the screen shows the options of languages.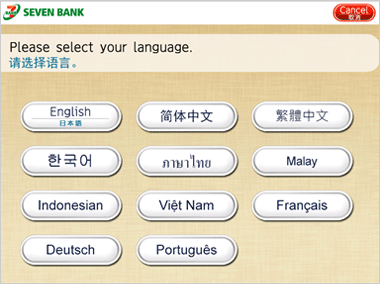 [Available languages]
English, Japanese, Chinese (Simplified), Chinese (Traditional), Korean, Thai, Malay, Indonesian, Vietnamese, French, German, Portuguese
Seven Bank will continue to improve convenience by proactively installing ATMs at commercial facilities, airports, stations, and tourist sites that attract many foreign visitors to Japan. We appreciate your continuous support.
References
At Seven Bank ATMs, you can withdraw Japanese yen with the ATM cards or credit cards that bear either of the logos shown below: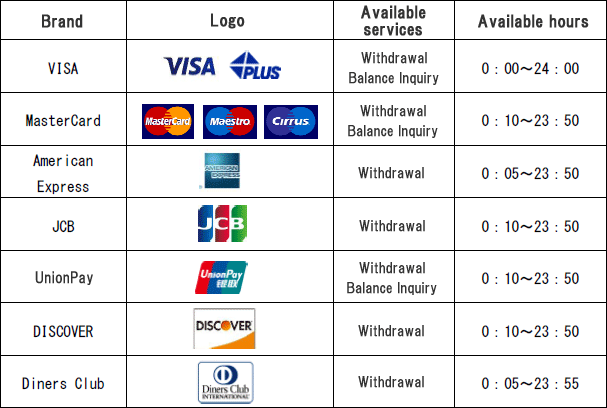 [Notes]
-

You may be subject to additional charges depending on the card issuing company.

-

There are cards you may not be able to use even if it bears the same logo as above.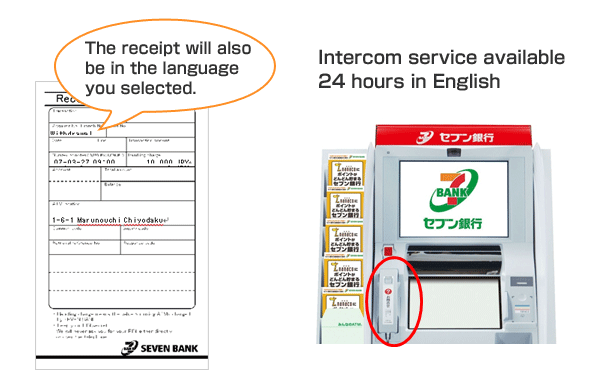 Expansion in language options is made to the late-model, third-generation ATMs, which over 90% of the 21,000 currently active ATMs across the nation (as of November 30, 2015).
We are going to change all ATMs to third-generation by March 2017.