Identification process and operation of materiality
Aiming for Further Improvement of Corporate Value
Promotion of Value Creation Story
Seven Bank has been working to create new businesses and services by clarifying issues that must be confronted, such as social and environmental issues, and by taking advantage of our strengths and uniqueness.
By fulfilling our responsibilities as a company from a medium-to long-term perspective, we aim to resolve social issues and increase corporate value.

Foster awareness within the company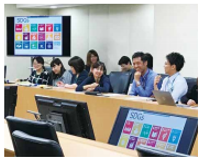 In order for each and every employee to understand the purpose and significance of our CSR activities, we held internal study meetings in the first half of fiscal 2018 in order to achieve sustainable growth at Seven Bank.
We explained that the environment surrounding us has changed according to the expectations of our stakeholders and the needs of social, and that the perspective of ESG and SDGs is now important.
At the same time, through discussions among participants, we were able to reconsider Seven Bank's business activities from the perspective of ESG and SDGs and to learn the relevance of these activities to day-to-day operations.
We will continue to disseminate the objectives and significance of our CSR activities to each and every employee, thereby contributing to the sustainable growth of Seven Bank.
Dialogue with experts
In light of the reasons for the need for CSR, the outline of materiality, and the social background, we held dialogue with outside experts, officers, and general managers to discuss what aspects of Seven Bank should focus on in response to diversifying social issues and demands.
Internal group discussion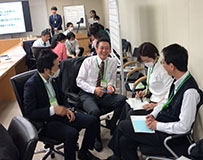 In order for Each and every employee to consider materiality of Seven Bank as his or her own, to understand the background of these issues, and to think about how to resolve these issues, a group discussion was held among employees from each division. Various opinions from participants will be reflected in the formulation of materiality.
Significance of formulation of materiality
Concentrating and appropriately responding to diversifying social issues and demands
Opportunities to review whether we miss business chances or grab them
Chances to create new markets and new businesses
Deciding Materiality
In order to grasp the expectations and demands from our stakeholders with respect to the bank, we sorted out the issues the bank should work on by carrying out questionnaire surveys targeting the shareholders and investors (individual investors and analysts in the financial industry) as well as our employees based on CSR guidelines in Japan and abroad such as the GRI Standards and ISO26000. Moreover, we had a number of discussions through group work of a wide range of hierarchy levels involving the management and identified the issues the bank should work on with priority from the perspectives of contribution to solving social issues and improvement in corporate values and sorted out the items with high importance for both perspectives into five issue groups by taking their relationships into account. The management meeting and board of directors meeting decided the Materiality the bank should work on a priority basis.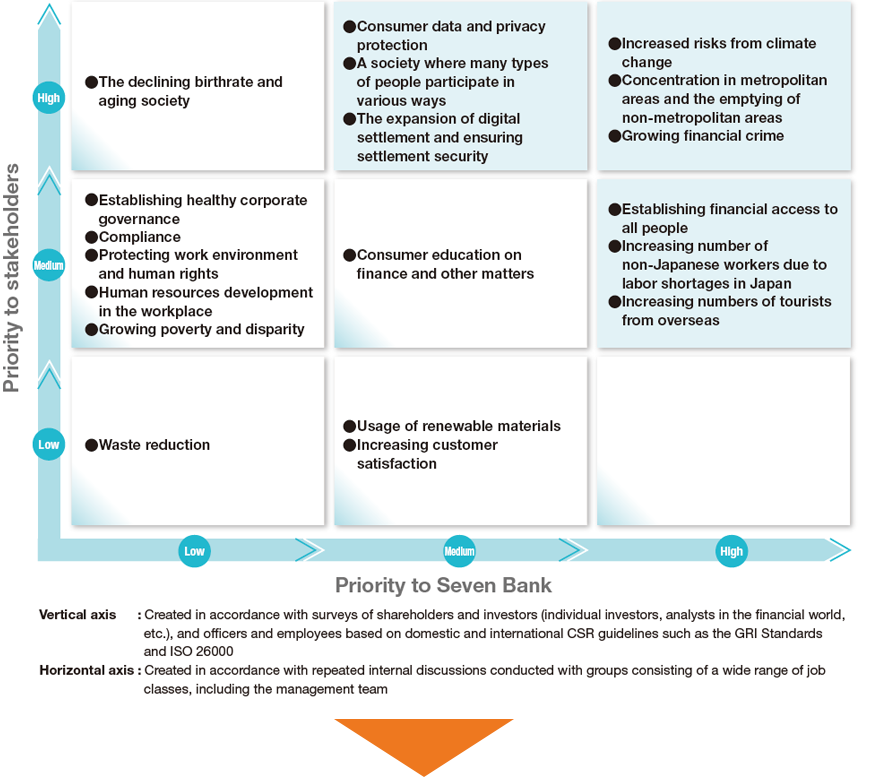 Materiality of Seven Bank
Promoting concrete measures