Important Notice
Updated November 18, 2016
January 14, 2014
Be aware of crimes that use unauthorized pop-up windows (*1) and attempt to steal information such as a PIN that is required for Direct Banking Service transactions.
When logging onto Direct Banking Service, there is information about previous cases in which unauthorized pop-up windows are displayed that attempt to make the customer enter personal information such as a PIN. Take the necessary precautions because similar events may occur caused by the customer's computer being infected by a virus, etc.
The Seven Bank Direct Banking Service will never have the customer only enter the confirmation number that is printed on the back of the cash card at the logon page (page 1) and the page directly after logging on (page 2). (*2) In addition, Seven Bank will never have the customer enter all numbers in the confirmation number.
Seven Bank will always have the customer only enter a 2 digit confirmation number in 2 places at the page to confirm transaction details or request details. (Page 3)
Never enter personal information such as a PIN, even when an unofficial page is displayed.
[If a false screen is displayed or if you inadvertently enter information]
Immediately contact Seven Bank if this type of page is displayed even once, or if you inadvertently enter your confirmation number.
* Always contact Seven Bank even if you close the false page without entering your confirmation number, etc., because there is a high probability that information inside your PC was taken.
[Preventative Measures to Avoid Virus Infections]
The following measures are effective for preventing virus infection.
(1)

Use security software and keep your virus definition files up-to-date at all times.


* We recommend configuring your software to automatically update its virus definition files.

(2)

Always update your computer OS and browser.


*1. We recommend that you configure your software for automatic updates.




*2. You should stop using any older OS that no longer receives security-related support, and instead use a newer OS.

(3)

Always update your computer OS and browser.


* Update Java or Adobe Reader as soon as possible by following the update instructions.

(4)

Never download software or applications for which you cannot verify the delivery source.


* If you are using an Android device, go into the settings and disable "Unknown sources – Allow installation of apps from sources other than the Play store" under "Security."

(5)

Delete any unknown emails without opening them.

(6)

Do not browse or visit any suspicious websites.
■Updated Information Concerning Viruses and Security
We recommend that you regularly check the Information-technology Promotion Agency (IPA) website below.
Incorporated Administrative Agency: Information-technology Promotion Agency (Japanese only)
http://www.ipa.go.jp/security/personal/index.html

The Information-technology Promotion Agency is an Incorporated Administrative Agency governed by the Ministry of Economy, Trade and Industry, which performs investigations and provides information concerning computer viruses and security.
■Computer OS and Browser Patches
Confirm the support information from the OS and browser provider.
・ Windows (Japanese only)
http://support.microsoft.com/?ln=ja


・ Mac (Japanese only)
https://www.apple.com/jp/support/

*1. Pop-up window is a small window that pops up and appears when a specific web page is displayed.
*2. The pages, such as "Register Occupation and Transaction Purpose" page, can be displayed right after logon. You may have to enter confirmation number on the pages, but once you register, they will no longer be displayed.
■To use Direct Banking Service safely
You can carry out and approve certain transactions such as domestic money transfers using this smartphone application. Even in the event that your password is stolen or used by a third party, it is possible to prevent unauthorized domestic money transfers from occurring.
Smartphone Authentication Service Details
(Reference)
The following is the official Seven Bank Direct Banking Service page. Confirm the URL.
Page 1: Logon Page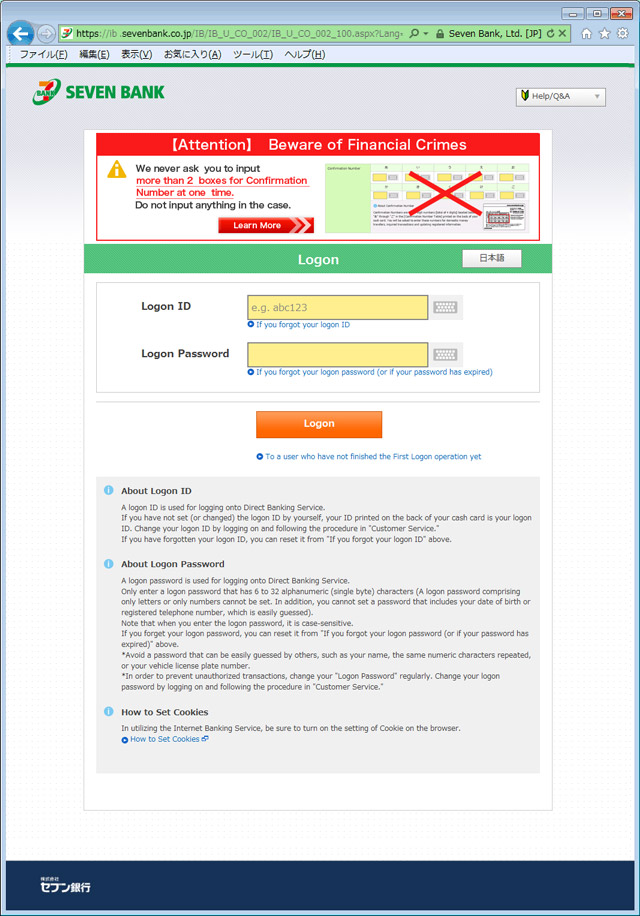 * You will never just enter the confirmation number at this point.
Page 2: Main Menu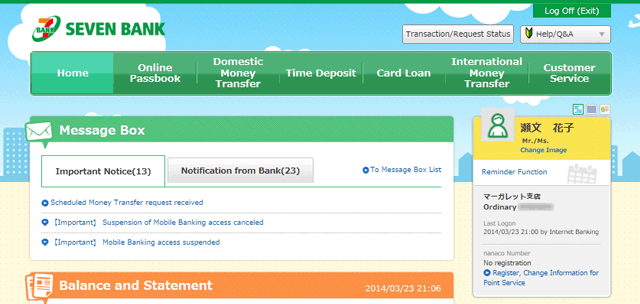 Page 3: Confirmation Number Entry Page